Ethnic Diyas and Pink and White Carnations to India - Occasion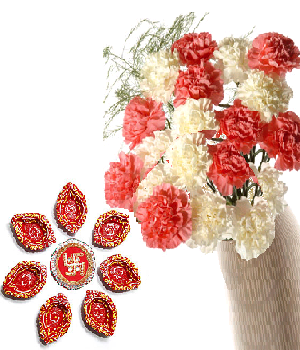 Ethnic Diyas and Pink and White Carnations
Diyas and Diwali are synonymous with each other.
The Swastika Rangoli decked with zariworks and faux pearls truly calls for eminent accolades. The set of seven Diyas along with the enthralling Rangoli is sheerly an embodiment of flawless beauty and grace.

Pink and White Carnations
A bouquet of pink and white carnations wrapped in a sleeve and tied with a big bow.

Send this beautiful Diya set and Pink and White Carnations to India on this Diwali through Thesurpriser.com and celebrate the festival of lights with full city.

Shipping Info: Ships within 3-4 working days.