Wooden Engraved plaque for Group Photograph to India - Occasion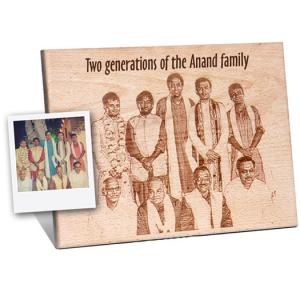 Wooden Engraved plaque for Group Photograph
Your photo, graphic and/or text is etched on to a wooden plaque of your chosen size to create a unique personalized gift. Made of high quality steam beech wood, the wooden plaque blends in perfectly with all kinds of home decor and is sure to remind your friends and family of you every day of the year.

Size: 9" *12"- Ideal for Group Photograph

Please send the photo as an attachment to sales@thesurpriser.com along with the order number.Image should be in GIF or JPG format. To ensure a good print resolution should be atleast 150 dpi.

Shipping Time: Ships within 8 to 10 working days.