Wall Hanging Calendar to India - Specials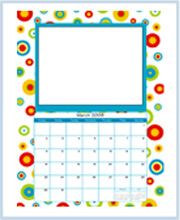 Wall Hanging Calendar
Cherish special moments of with your favorite photos printed on the 2009 wall hanging calendar.
* The photograph of your choice can be printed on this six page calender.
* Each month will be displayed on one page of the calender with the choice of your photo.
* Paper - Premium quality silver halide paper.
* Sizes: 6 x 10 inches photo calendar for wall hanging.
* Please send the photos as an attachment to sales@thesurpriser.com along with the order number.
Image should be in GIF or JPG format. To ensure a good print resolution should be
atleast 150 dpi.
Shipping Time: Ships within 4 to 5 working days.