Photo Cushion with Pillow Pink in Heart Symbol to India - Specials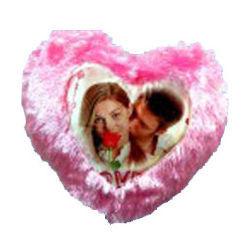 Photo Cushion with Pillow Pink in Heart Symbol
Heart shaped and pink in color, when gifted, this amazing product will ensure that you always stay close to the heart.

The cushions some in soft satin / silk fabric with even softer poly fill cushion inside which makes it a perfect bed companion and a perfect gifting item.

With assured dispatch the same day, you can use this as a perfect gift to Valentines day, Mother's Day, Father's Day, and Birthday gifts.

Printing of your best actor,your mentor or your love on cushion and feel the closeness and coziness with out getting close.

Shipping Time: Ships within 4 to 5 working days.