Fun Board to India - Specials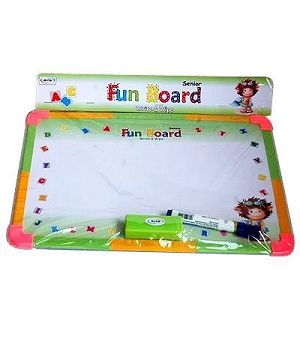 Fun Board
Surprise your kids by gifting them this Fun Board. Enjoy the early steps of A B C. . with this write & wipe Fun Board. The attractive designer touch of the board will surely allocate your child interest to learn them faster & abruptly.

Contents :-
1 Dry Erase Marker
1 Eraser Duster
1 Whiteboard

How to Use It :-
Only use New Whiteboard / Dry Erase markers with this product.

Older pens may leave hard to erase marks on the board.

If your eraser becomes loaded with ink. It may not erase the board completely.

Periodically, use the new eraser to remove the ink.
Stubborn ink marks on the board can be removed with a cloth moistened with water.

Send this Fun Board to India and let the little hearts jump in joy. You may also send Gifts to India through us.

Shipping Info : Ships within 3-4 working days.