Floral Designed Earthen Diyas and Exotic Flower arrangement to India - Occasion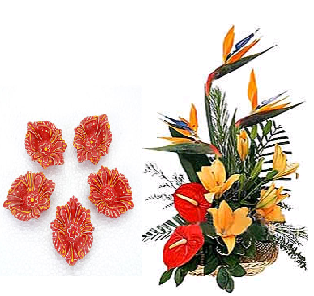 Floral Designed Earthen Diyas and Exotic Flower arrangement
Charm your dear ones in India on the grand festival of Diwali by sending this Tropical Arrangement with Floral Designed Earthen Diya set . The set includes 5 earthen diyas, colored in red fabric. Yellow and white patterns make the diyas look attractive. Flower design comes at the center of the diyas.

Tropical Arrangement:
This exotic Flower arrangement comprises of Bird of Paradise Flower, 2 Red Anthuriums and 2 Stem of Lilies.

Shipping Info : Ships within 3-4 working days.