Diya Stand with Diyas and Ferrero Rocher 16 pc to India - Occasion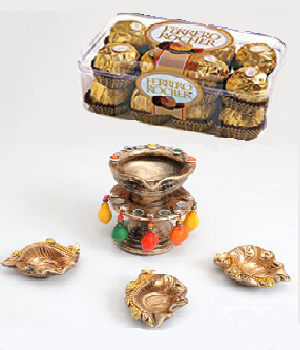 Diya Stand with Diyas and Ferrero Rocher 16 pc
On the grand festival of Diwali, surprise your loved ones in India by sending this Diya Stand with Diyas and Ferrero Rocher 16 pc.

This festive season send this mouth-watering 16 Pcs chocolates in a crispy and crunchy hazelnut exterior that individually wrapped for that freshness.

Diya Stand with Diyas :
The set comes with one earthen diya stand and 3 separate earthen diyas. The 3 diyas come in unique shape. One side of these diyas is in curvy design while the other side is artistically embellished with golden moti and floral motifs. The diya stand is beautifully decked with white beads in floral pattern and golden latkans.

Shipping Info : Ships within 3-4 working days.